Introduction of Wuling Hongguang MINI EV and its battery pack
As an entry-level micro pure electric vehicle, Wuling Hongguang MINI EV quickly achieved good sales in third-tier, fourth-tier and fifth-tier cities with its subversive ultra-low price.
Data shows that in September 2020, the monthly sales of Wuling Hongguang MINI EV exceeded 20,000 units, reaching 20,150 units, surpassing Tesla model 3, and quickly topping the list of new energy vehicle sales in China.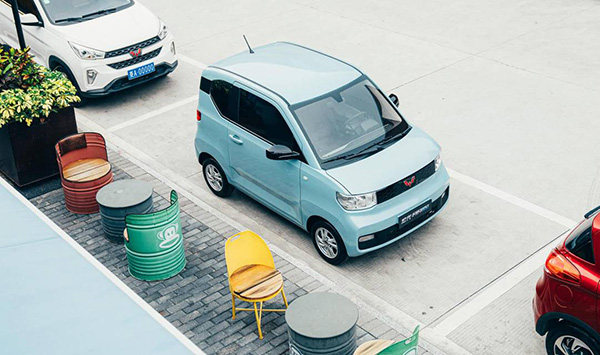 Why is Wuling Hongguang MINI EV so popular? Let's take a brief look at the configuration first.
Hongguang MINI EV 2020

Items

The first model

The second model

The third model

Manufacturer

SAIC-GM-Wuling

Level

Mini car

Energy type

BEV

Time to market

July 2020

Manufacturer's guide price

RMB 28,800

RMB 32,800

RMB 38,800

About USD 4,320

About USD 4,920

About USD 5,820

Cruising range

120km

120km

170km

Battery capacity

9.3kWh

9.3kWh

13.9kWh

Battery type

Lithium ion battery

Welding method

Battery warranty

8 years or 120,000 kilometers mileage (whichever comes first)

Charging method

Slow charge

Charging voltage

220V

Charging time

6.5h

6.5h

9h

Electric motor

27Ps

Motor type

Permanent magnet synchronous motor

Maximum power

20KW

Motor torque

≤85Nm

Maximum speed

100km/h

Body structure

3-door, 4-seater, hatchback

Wheelbase

1940mm

Minimum ground clearance

125mm

Front track

1290mm

Rear track

1290mm

Length*width*height

2917*1493*1621mm

Vehicle weight

665kg

665kg

705kg
From the above configuration, Hongguang MINI EV is not so good. So why is the sales volume so big?
Core competitiveness: Configuration is irrelevant, pay close attention to price
The existence of Wuling Hongguang MINI EV is a transportation tool to solve the daily short distance travel of 2-3 days in small and medium-sized cities.
Since it is a transportation tool starting at 28,800 yuan, it must have many shortcomings. For example, the active and passive safety is poor, the configuration popularity is low, and the navigation mileage is short. There are no airbags, body stabilization systems, steering wheel position adjustment, rear wipers, and the entry-level model " The first model " does not even have air conditioning!
In so many cars, if Wuling Hongguang MINI EV configuration is the lowest, not many people would object to it! But the fundamental reason why it quickly became popular is to pay close attention to the price, which is really too cheap.
Wuling Hongguang MINI EV can shelter from wind and rain, and theoretically reaches a maximum range of 170km (The third model). Even the theoretical 120km range of medium and low configuration can also meet the normal range of 2-3 days in small and medium-sized cities. To some extent, this seizes the market for electric motorcycles and electric bicycles.
*Related articles: Internal Structure of SGMW Wuling Hongguang Mini EV Battery Pack